Do you really know why people use social platforms?
The key reason is to share their thoughts and emotions. So, they share photos, texts, music, or their favorite links across the platforms.
However, many of them are ignorant about security issues. For instance, if you are using Tumblr, you must know the security threats and ways of using it. Also, you should know the way how to block an IP address on Tumblr.
The know-how will help you maintain a secure and peaceful virtual environment.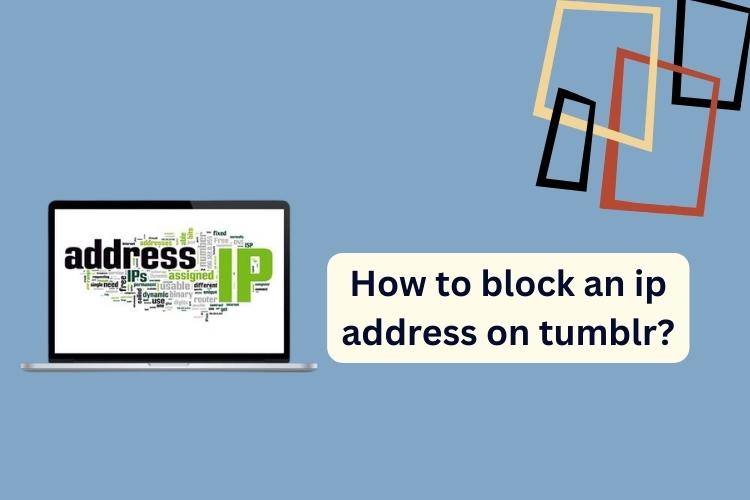 So, I have made this post for those who need to know the security risks and avoid them conveniently. I can assure you will get some interesting information, as well..
What is Tumblr?
Yes, I know most of my readers are aware of this term. However, some of you may have an incomplete idea. Thereby, you will get a clarification of this term in this section.
Tumblr is a social platform (like the other contemporary ones). It allows users to interact via this platform and share their emotions in the form of texts or photos. Moreover, the users can also share many more things like music or links.
For all the features, the site is mostly known as a microblog. Using the site is almost effortless. You need to have an account and you must be over 13 to open it.
How to block an IP address on Tumblr?
While using Tumblr, there might be different issues. The users may get harassed. Also, they may get bullied, or become victims of personal attacks. And at times, the incidents are beyond tolerance limits.
In such cases, you have two options. Either you can announce a war against that person, or you can block the person's IP address.
Experts recommend selecting the second option. When you block the Internet Protocol (IP) address of that person, s/ he would not be able to reach you anymore.
What happens when you block the IP? The block will work like a barrier. That intended person will fail to communicate with you through the same channel.
The process is pretty simple and takes less time. Check the steps here.
Step 1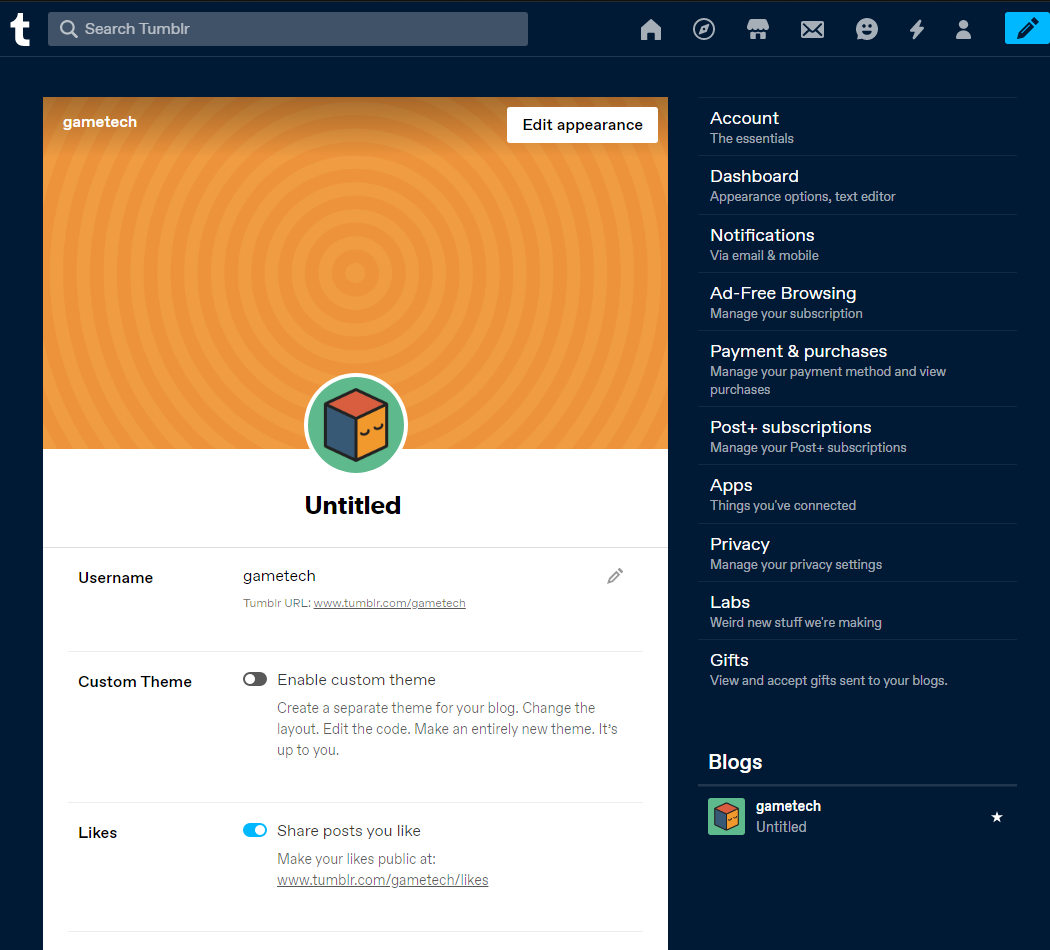 Go to Settings of your Tumblr profile
As the first step, you need to visit the profile section of your Tumblr account. The option looks like a gear icon. It is located on the dashboard.
So, click on it.
Step 2
Now, you have to keep scrolling until you find the Ask option. Under this option, you will have the desired option to block any certain IP. The option is titled – Block Specific IP.
In this section, put down the IP address you want to block. Now, save the change that you want to make.
However, make sure you are not making any mistakes in entering the IP address. Otherwise, you may block the wrong person. Thereby, it is better to check and recheck the IP address before you put it on the box.
You are done!
How to find the IP address?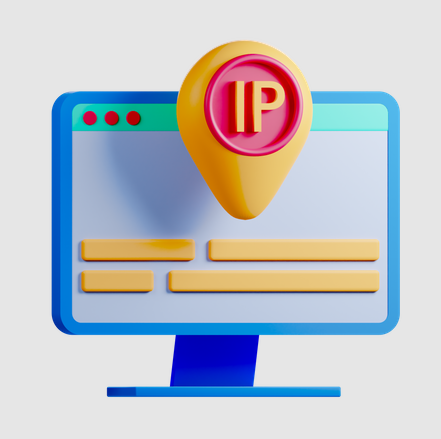 Well. You may ask how you can get the IP address of the person who is disturbing you.
This is not a big deal when you are using Tumblr. If you are the victim of such incidents, Tumblr will notify you with the IP addresses of the persons.
In this way, you can have the IP addresses.
So, what you need to do is to collect the IP address from Tumblr by copying it and pasting it on the designated spot.
The IP will be blocked and the person will not be able to make any more activities using that IP to your account.
How to unblock an IP address?
Unblocking is also simple. It is the reverse process of blocking someone.
In order to unblock any IP address, you need to visit the Settings option of your profile. Then, select the preferences. It is located on the Blogs list and on your left-hand direction.
Now, edit the block list. You have to type the IP addresses you blocked earlier. Click on the unblock option. The IP address will be removed from your blocked list.
Tumblr and kids
Almost all social platforms have restrictions about using the platform for kids. Unless you are of a certain age group, you cannot have an account on any social platform. Tumblr is not an exception here.
You must be of a certain age if you want to join here. More than 400 million people use the platform every day since its inception back in 2007.
So, there are risks and threats as well. Remember, not everyone around your virtual profile is your friend. Therefore, unless you are mature enough, it is unwise to open an account.
In recent times, the age limit to have a Tumblr account has been set at 16. People under this age limit must provide consent from their parents or a legal guardian.
What is the best use of Tumblr?
Despite being a microblog, Tumblr plays a crucial role in the lives of users. They use the platform to express their thoughts, emotions, and inner-self.
They do all the activities using posts that include multimedia content. At times, the post could be collaborative to attain any specific objective. In those posts, the users can get massive interaction.
The other users can post on those blogs and that may help raise awareness or reach the goals.
Another impressive benefit is that this is the place to exercise your creativity. It has a number of options to show your creativity. But you may miss those in the contemporary other sites.
In other words, this is a place to show the artistic parts of your brain. The page you design or customize will tell about your creativity and make you more special than others.
Safety guidelines to avoid risks while using Tumblr
Before you use Tumblr, you must know certain safety rules. And of course, you must follow those roles for maintaining a balance. The balance is between you and the other users of this platform.
Tumblr has certain policies regarding the safety and security of site users. Thereby, you must know what to do and what to avoid in this virtual arena.
The Don'ts
Some of the most prominent don'ts on Tumblr are explained in brief here.
Sharing inappropriate content or content that may induce any sort of violence. You better check the policy to know more details about this list.
No malicious speech is entertained on this platform. So, if you want to promote hate speech, terrorism, militancy, or want to harm any group of people, you must exit it.
Skip sharing adult or sexually explicit content. This is also not permitted on Tumblr.
Abusing someone, cyberbullying, or spamming is completely banned here.
Frequently Asked Questions
How can I report abuse on Tumblr?
If you are a victim of abuse on Tumblr, you need to report that particular issue to the authorities. Before you submit the report, you must have the URL and explain how that violates Tumblr policy.
Also, you should add your name and email for future communication.
The safety team of this platform will analyze and scrutinize your report and will take necessary actions against the violator(s).
How can you block someone on Tumblr?
Blocking someone is a smart way to get rid of unwanted issues while using Tumblr.
So, if you want to block someone on Tumblr, go to your profile section. Click on the three dots (also knowns as meatballs).
From there, select the block option. Now, type the name or blog you want to blog. Then, confirm it. Following this process, you can block any blog post or any user.
What happens when you block someone on Tumblr?
Blocking is like building a barrier in the way of someone. In this case, there is a virtual wall between you and the blocked person.
So, when you block someone, they won't be able to see your activities or follow you on Tumblr. Also, they cannot send you any messages or send any sort of communication materials.
In short, their relationship with you will be cut. The most interesting fact is that the blocked person will not have any idea about the matter. Tumblr does not notify such private issues to other users. So, you are completely safe and there would be no embarrassment.
End note
So, this was all today on how to block an IP address on Tumblr. Perhaps, I have provided you with sufficient ideas and knowledge about the process.
You can feel free to share your ideas and thoughts regarding the same issue. Pen your texts in the comment section. After reviewing, I will get back to you to enhance the conversation. By this time, I would highly appreciate it if you share this post to let others earn the same knowledge as you did.