Do you know there are some interesting troubles while using iPhone and Mac together?
Yes. It is damn true. Often you may witness your iPhone is missing on your Mac. Not to worry. This is a highly common problem for users.
If you know Fix: iPhone Not Showing in Finder on Mac, you will overcome it.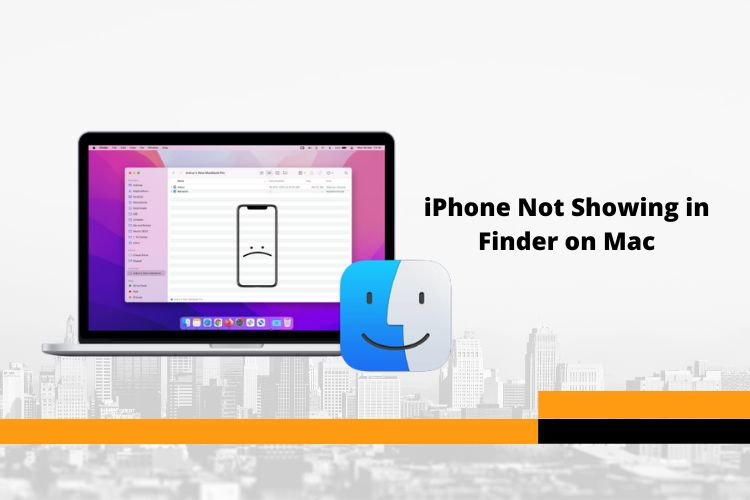 Also, it will add some insights to your existing knowledge domain. Unfortunately, many Apple device users are unaware of such facts. So, they are in hot water and fewer of them find the solution.
Let's check the remaining part of this post.
The Fix: iPhone Not Showing in Finder on Mac
The problem is that your iPhone is not showing up on your Mac. Whenever you connect the phone with a USB cable, the computer or laptop is unable to detect the phone. It does not appear on the sidebar.
So, if this is the problem, here is the fix.
Check your cable
At times, faulty cables are the culprits for such happenings. A faulty cable can disrupt charging the device and even connecting to the computer.
Hence, it is imperative to check if the cable is performing rightly. Otherwise, you may not get the connection. So, check the cable first.
How can you do that? Check if the cable is charging your phone. Plug the cable into any adapter and connect it to a power outlet. See, if the cable is charging the device. If it is actively charging, the cable is okay. But if not, then you need to change the cable.
And connect the device using the cable to your Mac. Probably, this time you will not face any issues.
Check your iPhone
Besides, the liability is not only on the accessories. You need to conduct some manual checking as well. You know, when the iPhone is locked, the USB cannot get access to the phone.
But in most cases, iPhone users make this mistake.
So, what you need to do is to unlock the device. Make sure, the home screen of your phone is visible. If the home screen is locked, the USB cable will be unable to access the device.
Set Finder preference
At the same time, you need to check your finder preference. Sometimes, the finder does not show the external devices attached to the computer.
Thus, you must check the finder preference. Set the preferences again. Make sure it allows any external device to display on the computer's side panel.
Now, reconnect your iPhone using the USB cable. Hopefully this time your iPhone will get connected.
Last words
It was all about the Fix: iPhone Not Showing in Finder on Mac. You have the right idea and several ways. Apply them to fix the issue.
However, if you are still in trouble, feel free to let us know. Use the comment section and share your thoughts. We will surely get back to you as fast as possible.