I'm back again with another hack on how to leave a club in rocket league.
I guess you know about Rocket League and a successful player in this video game. But at times, you need to take a break from the league.
However, if you lack the idea of leaving process, you are in a mess. And most of my readers are in trouble. Following their recommendations, I am writing this post. It will help you know the in-depth of this game and other details you need to know.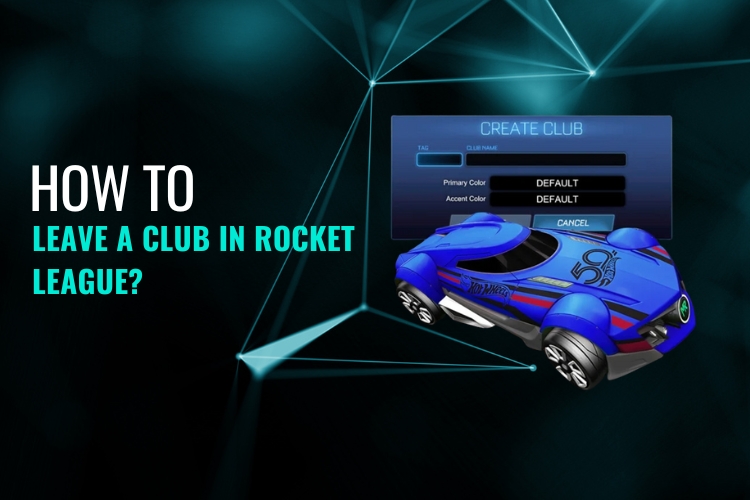 So, let's start reading this post. And earn some knowledge on this game.
What is Rocket League?
Of course, you are aware of this game, as you are a regular player. But there might be some readers, who do not have the familiarity. So, this initial portion will help them know the game.
The name relates to something that has a connection with a rocket. Or you might be in a league where there are rockets.
But in reality, this is a video game on soccer.
The most interesting part of the game is that you need to play the game using a vehicle. As a player, you have to score goals by hitting the ball through your car.
Background of the game
The game started its journey in 2015. At that time, the game was meant for the Windows operating system and PS4. However, the game was compatible with Xbox, as well.
And that was the beginning of this thrilling game. In the next year, the developer Psyonix release the game in a retail version. It means the game was now open to all. Besides, they added some interactive features, too, in the later years.
Alongside the Windows OS, the game was made available for Mac and Linux operating systems. Consequently, the game received global recognition. Players of different platforms started enjoying this game, very much.
How to leave a club in rocket league?
It's a pretty easy process. Even if you lack the right technical know-how, I don't think it would be a tough call for you.
Follow the steps mentioned here to leave a club in the game.
Step 1
As the first step, you need to launch the game. After launching, do not enter into the playing mode. Instead, go to the menu and then to your profile.
Step 2
In the second step, you have to browse the profile menu. You will get options like career, replay, and avatar, among others.
From the options, select the Manage Club option.
Step 3
It's the final step. When you are in the Manage Club option, you need to click on the leave club tab.
After the confirmation, you are out of the club. It's done!
Interesting facts on the Rocket League game
Gaming objective of Rocket League
The sole objective of this game is to score goals. But not in the traditional method. The gamers have to score using fine-tuned vehicles. The rocket-powered vehicles will attack their opponents and make scores. The exotic cars and immersive graphics will blow your mind.
Remember, this is a fast-paced game. So, unless you are a skilled gamer, it would be challenging for you to score and survive among other players.
Moreover, you must have advanced driving skills to play the game, as it is about scoring goals with a car. Push the ball through the car and ensure your ball goes to the net of your opponent.
The cross-platform benefits
Amid many of the wonders, cross-platform is the outstanding one. Do you know what cross-platform is?
Well. Let me explain to you.
Usually, game developers develop games for any specific platform. For instance, there are certain games that you cannot play offline. You need to be online to enjoy those games, all the time.
Besides, there are certain games that you need to play offline. Also, some other games need to be played using Xbox or Nintendo console.
In fact, those games are not compatible except with the designated platform. So, if you want to play those, either you have to own an Xbox, PS, or a Nintendo console.
Why? Because there are some commercial aspects related to this game development. The developers want to make some profit in exchange for their efforts. So, they especially develop games for any specific platform.
On the contrary, cross-platform games are different. They are compatible with any platform.
No matter if you do not have an Xbox or PlayStation device, you can run it on your computer. However, you may need a joystick or console to play the game.
Frequently Asked Questions
How do I merge my Rocket League accounts?
Merging Rocket League accounts has several benefits. If you have an account with any other gaming or similar platform, you can merge it to obtain certain benefits.
For instance, you can merge your Rocket League account with your Epic Games account.
To do this, visit this link: https://www.rocketleague.com/activate. Then, go to the Account Settings option, and from there, sign in to the account of Epic Games – that you own.
After signing in, you will have the option to add additional accounts. The accounts are not linked to this account, but this time, you can add those. You can add your Nintendo Switch or PlayStation account.
Once you link the account, select the primary one. This one will be used when you are exploring the other platforms. But remember, the primary account is not frequently changeable.
Who is the highest level in Rocket League?
There are nine ranks (or levels) in Rocket League. It begins with the rank "Unraked" while the maximum rank is Supersonic Legend.
However, you need to face a number of challenges and cross the other levels to reach the Supersonic stage.
When you will be on the stage, it will demonstrate that you are an incredible player in this soccer game.
What is the best car in Rocket League?
Well. There are several best cars available in this game. The cars are unlocked in line with your level upgradation.
The name of some of the best cars is here.
BMW M240i
Outlaw
Takumi
Dingo
Twin Mill III
Bone Shaker
Aftershock
Batmobile
Breakout
Endo
Mantis
Dominus
Octane
Nimbus
Marauder
Does car size matter in Rocket League?
This is a technical issue. And car size may vary to personality. You can lose with a larger car. Alternatively, you can keep scoring using a smaller car with fewer features.
So, it depends on the players. It is also based on your playing style or the type of game you prefer.
However, the vehicle also needs to be at least some reliable features to keep you afloat in the field.
End note
Are you ready now? To battle your opponents on the Rocket League? Hopefully, this quick guide helps you know how to leave a club in rocket league.
Change your club and get a suitable one. Wishing you luck.
If you enjoyed reading this post, please feel free to share and help others know. And also put your thoughts in the comment section. I will review the comments and will get back to you with the right answer – if you badly need that.